The Power of Digital Marketing Strategies
Digital marketing was born in 1990, and since then, it has continued to surprise us with chosen techniques, the power of digital marketing new methods of promotion, and boundless creativity. The number of Internet users is constantly increasing, so it is the ideal place to meet your potential customers.
You only have to enter his world, and he will help you discover, meet, attract and create new relationships with people in the same field of activity. If you have an online business and want to grow as much as possible, we will present you with the following ways to use online marketing in a profitable way and to successfully implement it in your business ideas.
What Does Power of Digital Marketing Mean?
It is said that digital marketing is about connecting with your audience at the right place at the right time. You need to meet your audience where they already spend their time, that is, on the Internet. It involves the use of digital channels to market products and services in order to reach consumers.
In the process of conducting digital marketing, a business can use websites, search engines, social media, email, blogs, videos, mobile apps, etc. It is up to everyone to choose which methods are more suitable for them.
To be successful, marketing requires a combination of knowledge in advertising, sales, and the ability to deliver goods to end users.
What Advantages Can Digital Marketing Bring You?
Increasing customer loyalty through frequent communications
Customer loyalty can be difficult to establish, but it is worth every effort. It costs more to attract and convert new customers than to keep existing ones. It's great to close a sale with your customers, and it's even greater to keep those customers after the sale because a satisfied customer may make another purchase or recommend your products/services to others.
So, to keep your customers, you must first keep in touch with them. How can you make this easier than ever? Through digital marketing. You can send personalized offers via email, such as seasonal discount codes for similar products or exclusive access to new product launches.
This will make the customer feel valued and generate repeat sales
Another way to keep your customers is to engage on social media. Encourage your customers to follow you on social media and keep their interest alive with useful, relevant content that inspires and informs them about your products/services, news, offers, events, etc.
Wide Geographical coverage
When you post an ad online, people can see it no matter where they are, making it easier to increase your business's market reach. Be careful, however, that your ad is not geographically restricted.
Unlike traditional methods, the Internet is available to customers worldwide. A website will allow you to find new markets and trade globally with a small investment, removing many traditional barriers to entry.
Involvement of customers in every stage of the purchase
Before digital marketing became popular, consumers would go to a brick-and-mortar store after seeing an ad on TV or in the newspaper. Not many people knew about the customer journey precisely because it was difficult to understand and analyze. In today's digital marketing, we can track every step a customer takes and understand their buying behavior.
Today, a consumer sees an ad online, can search and compare prices on multiple websites, or can physically go to a store to try on the product and purchase it. The online environment is much more rewarding, as consumers receive special offers, coupons, support, and comparison tools, and a marketer can follow the entire customer purchase journey.
Targeting the desired audience
There are many online marketing platforms that allow you to target a target audience, and today it is easier than ever to segment this audience. You have access to online tools that track a user's activity and provide you with useful information about them, such as demographics.
In turn, digital marketers can use this data to offer consumers products or services specific to their needs. Once a visitor clicks on a display ad on social media or a search engine, that brand can target that user with subsequent ads of interest to them.
If you can deliver content based on user's interests and online behavior, you can strengthen your relationship with them, making their shopping experience easier and more satisfying. Additionally, you can target your audience with relevant content and offers based on where they are in the buying journey.
Dynamic Adaptability
Digital marketing strategies are malleable and flexible, so businesses can adjust their digital efforts on the fly, allowing for quick changes or pivots when needed to take advantage of a business opportunity.
Having the power to easily change your strategy is a great benefit of digital marketing, as adopting an online marketing strategy is much easier than other traditional forms of marketing, such as emails or billboard advertising.
For example, if an online ad doesn't run as you expected, you can quickly adjust it or even pause it to optimize it for the best results.
Therefore, it is easier to adapt and change a digital marketing strategy compared to traditional forms of marketing.
Optimizing and achieving a higher conversion rate
Online advertising platforms are much more affordable, unlike traditional marketing that includes expensive TV, radio, or print ads. You can optimize your ad conversion rate much more conveniently than you can with traditional advertising because, with print ads, it's difficult to track conversion rates.
Digital advertising makes your job much easier because every interaction is monitored, and you will know immediately how many people see your ad and what actions they take based on it.
So how do you know if someone saw your ad in a magazine or newspaper and then went to the physical store? If you can't track the performance of your ads, then how will you be able to optimize them?
Accurate Measurement of Results
With digital marketing, you can accurately measure everything worth measuring, from the moment the visitor clicks on your ad to the moment they leave the page. You can therefore determine how many people saw your ad, how many sales resulted from that ad, and your return on investment.
Data analysis software, Google Analytics, or platforms such as Facebook Ads and Google Ads make this measurement and monitoring of results possible. However, don't get caught up in all the metrics that can be tracked, as it's more important to pay attention to the data that is most essential to your business.
These important data are called key performance indicators (KPIs) and represent those metrics that are strictly related to the goals and purpose presented in your marketing strategy planning, i.e., the effective business outcome.
Some examples of KPIs are:
Cost-per-click (CPC)
Return on investment (ROI)
Customer acquisition cost – customer
lifetime value
Gaining credibility toward the brand
Always useful and interesting content will help a brand gain the trust of its customers and industry experts. If you want to gain credibility in a fast and sustainable way, you have to use the Internet and marketing in an optimal way favorable to your business.
Studies show that brands that are very active online end up having the most credibility. By the content when its transmit for the brand customer always have doubts and need to clarify the concept for a certain solution
Thus, with a little research, you will be able to find out their interests and satisfy their curiosities in a simple and attractive way.
Types of Digital Marketing
♦ Search Engine Optimization (SEO)
What does SEO do? It helps websites rank higher in SERPs, increasing organic traffic. SEO specialists research the words and phrases that users use to search for information online and insert those terms into website content.
Some extremely important aspects when it comes to SEO are:
– content indexing: it is essential to allow search engines to read the content on your site as clearly and correctly as possible.
– Good link structure is important to get organic reach. An SEO specialist can properly format links, URLs, and sitemaps to make them more accessible to search engine crawlers.
– Technical SEO: This type of SEO focuses on the backend of your website and how the pages are coded. Image compression, structured data, and CSS file optimization are forms of technical SEO that increase site loading speed, which is an important ranking factor in Google's eyes. ?
– link building: it is a process that involves obtaining backlinks from other websites to your website. A link-building campaign helps you generate traffic and attract new audiences to your site. 
– finding keywords: the keyword research process takes time, but it brings remarkable results. Once you've correctly implemented the search terms you want your site to be found for and created meta tags and relevant content, you can expect to climb Google's rankings and enjoy more traffic to your site.
PPC Marketing
Pay Per Click is a method of generating traffic to your website by posting an ad on a platform and paying each time someone clicks on it. The most popular type of PPC is Google Ads, which allows you to pay for top positions in the SERPs at a price per click of the links you place.
An algorithm prioritizes each available ad based on factors such as:
– the quality of advertisements
– the bid amount
– keyword relevance
– the quality of the landing page
After users click on the ad, each PPC campaign has one or more targeted actions, such as conversions, which in turn can be transactional or non-transactional. Making a purchase is a conversion, and so is signing up for a newsletter or calling you.
Where else can you use PPC?
? Paid Facebook Ads: Users can pay to customize a video, image, etc., that Facebook will publish to the news feeds of people who are in your area of ​​interest.
? Twitter Ads Campaigns: Users pay to place a series of posts or profile badges in the news feeds of a specific audience, all with the goal of driving website traffic, increasing Twitter followers, etc.
? LinkedIn Sponsored Messages: Users can pay to send messages directly to specific LinkedIn users based on their background and industry.
Content Marketing
It is a marketing strategy used by companies to attract potential customers and increase sales and brand awareness. Published content must provide valuable, relevant, and interesting information to the target audience in order to help companies build consumer brand loyalty.
An essential first step before you start writing the content is to correctly identify the needs of your target audience. Only in this way can content rank as high as possible in search engine results and establish strong and long-term relationships.
What exactly is content marketing?
✨ Audience identification
✨ Determining the right format to present the content
✨ Choosing a good copywriter to create and write the content
✨ Determining how content is distributed
✨ Choosing a sustainable program
✨ Following best practices
By accessing this article, you can learn more about content marketing strategies and the advantages they can bring to your online business.
♦ Email Marketing
It is mainly used to communicate with the public and keep them informed at all times, to promote content, discounts, and events, and to direct people to the company's website. It can be part of a content marketing strategy, providing value to consumers and, over time, turning your target audience into customers.
Email marketing professionals know how to create compelling campaigns and are adept at analyzing customer interactions and data and making strategic decisions based on that data.
There are many things marketers can do to make the emails they send more attractive to users and much more likely to be opened. Some of these are:
– Creating a sense of urgency: writing an email informing recipients that time is running out to get a special offer or that there are a limited number of offers available can increase the number of people who will enter the site- your
– Email personalization: Setting your emails and subject lines to include the recipient's name is a proven way to increase open and click rates.
– Allowing recipients to set their preferences: Allowing users to specify how often they want to receive information from you can help you keep subscribers on your list, as well as encourage them to click on your emails.
The types of emails you can send in an email marketing campaign are:
– Blog subscription newsletters;
– Welcome emails for customers;
– Advice or similar emails in series to take care of customers.
 Social Media Marketing
This type of marketing helps you promote your brand and content on social media (Facebook, LinkedIn, Instagram, Twitter, Pinterest, etc.) with the goal of increasing brand awareness and generating traffic and leads.
Social Media Marketing involves the active participation of the audience, and over time it has become a popular way to attract attention. While the primary goal of a social media marketing strategy may be direct acquisition, another may be to create a long-term relationship with your audience.
Many brands use social media marketing to start conversations with their audience, not to encourage them to buy. This is especially the case with brands that offer products or services that are not suitable for impulse purchases. It all depends on you and your company's goals.
An essential part of social media marketing is analytics. Marketers need to be adept at analyzing the performance of their posts and creating strategies based on that data. One reason marketers constantly measure and track their campaigns is that this data allows them to demonstrate a campaign's ROI.
☝️ Remember that social media marketing is much more complex than simply managing your personal Facebook or Twitter profile. It takes creative thinking combined with an objective, data-driven strategy.
Marketing Automation 
Marketing automation refers to software that serves to automate core marketing operations. It powers digital marketing campaigns, improving the effectiveness and relevance of advertising.
Marketing automation allows companies to:
– collect and analyze consumer information,
– design targeted marketing campaigns,
– send and post-marketing messages at the right times and to the right audience.
Marketing departments can automate repetitive tasks they would otherwise do manually, including:
» Email newsletters: Email automation not only allows you to automatically send emails to your subscribers, it can help you shrink and expand your contact list as needed so that newsletters are sent only to people who want to see them in their inboxes.
» Scheduling social media posts: If you want to grow your company's presence on a social network, you need to post frequently. Social scheduling tools push your content to your social media channels so you can spend more time focusing on your content strategy.
» Lead Generation Workflows: Generating leads and turning them into customers can take a long time. You can automate this process by sending targeted emails and content to potential customers once they meet certain criteria.
» Campaign Tracking and Reporting: Marketing campaigns include lots of different personas, emails, web pages, content, phone calls, etc. Marketing automation helps you sort out everything related to running campaigns and then track the performance of that campaign based on the progress of all these components over time.
This level of real-time personalization means you can efficiently create an individualized marketing strategy for each customer without the additional time investment.
Affiliate Marketing
With the growing importance of online marketing, affiliate marketing has become popular among many organizations to bridge the gap between consumers and businesses. Also known as influencer marketing, this is a type of performance-based advertising where you get paid for promoting someone else's products or services on your website.
Affiliate marketing works using a revenue-sharing model. If you're an affiliate, you get a commission every time someone buys the item you're promoting. If you're a merchant, you pay the affiliate a percentage of every sale they help you make. Affiliate marketing channels include:
Native Advertising
Our colleague Daniel defines native advertising as a way of integrating paid advertising through texts, video/audio materials, articles, etc., which are based on strategic and creative thinking, and have as their final goal their delivery in a relaxed and easily assimilated environment by the target audience.
The advantages that native advertising can bring you can be:
– increasing organic traffic on the site;
– increasing visibility among your audience;
– generating relevant content for your audience;
– engagement on the site;
– quality backlinks;
– educating and informing the public about the products or services provided and the quality of your brand;
– transparency in the promotion of your products/services.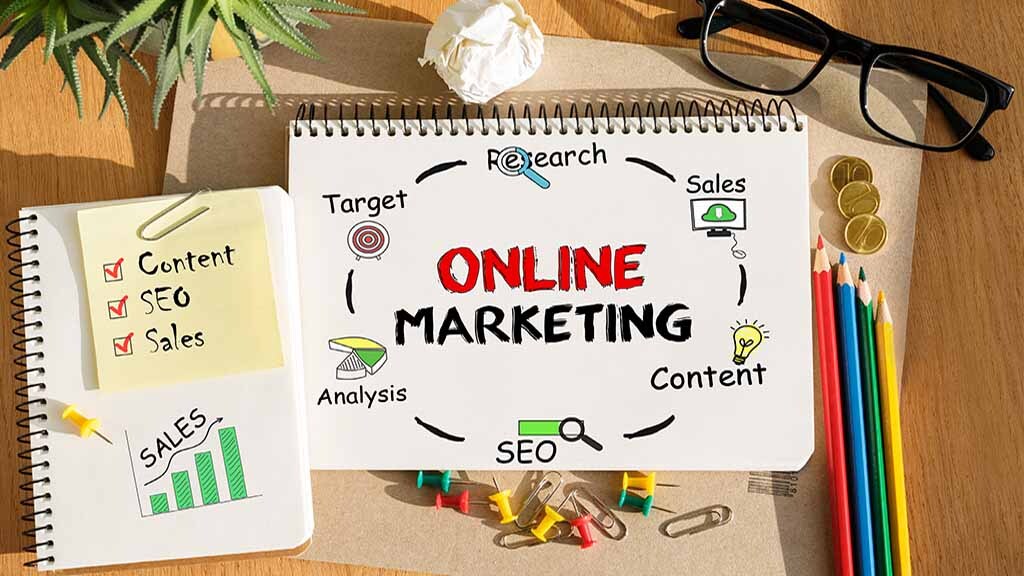 Steps To Create A Profitable Online Marketing Strategy
For the process of creating and implementing an online marketing strategy to bear fruit, it is essential to allocate time and resources. The information, analysis, and research gathered during the planning and creation can have a tremendous impact during implementation.
It is well known that every business has unique needs and goals, so the creation and implementation of a digital marketing strategy will change from one business to another. However, in common practice, most companies use a similar process, which contains the following steps:
Identification of marketing objectives: It is the first step in the process that involves setting specific objectives, such as driving sales, generating leads, increasing subscribers, or strengthening the company's image.

Solidifying the sales process: It is important to understand the digital sales process and how customers will make purchases online in order to maximize the benefits of digital marketing.

Target customer segmentation: group your target audience according to demographics, interests, and needs so that you meet them with specific products/services designed to fully satisfy their desires.

Choosing marketing channels: It is essential to do research to discover where your target audience spends the most time and to identify the most suitable digital marketing channels that will take you directly to your ideal customers.

Setting clear benchmarks: to evaluate a digital marketing strategy, it is recommended to establish a series of benchmarks as clear as possible to guide you in measuring progress throughout the entire process.

Make necessary adjustments: After creating and implementing a digital marketing strategy, it is essential to monitor progress toward goals and adjust along the way as needed.
What should you remember? An effective digital marketing strategy must take into account individual business needs and goals, and digital marketing offers a wealth of methods, channels, and strategies so that businesses of almost any size and in almost any industry can use online marketing over time which also enjoys visible results.