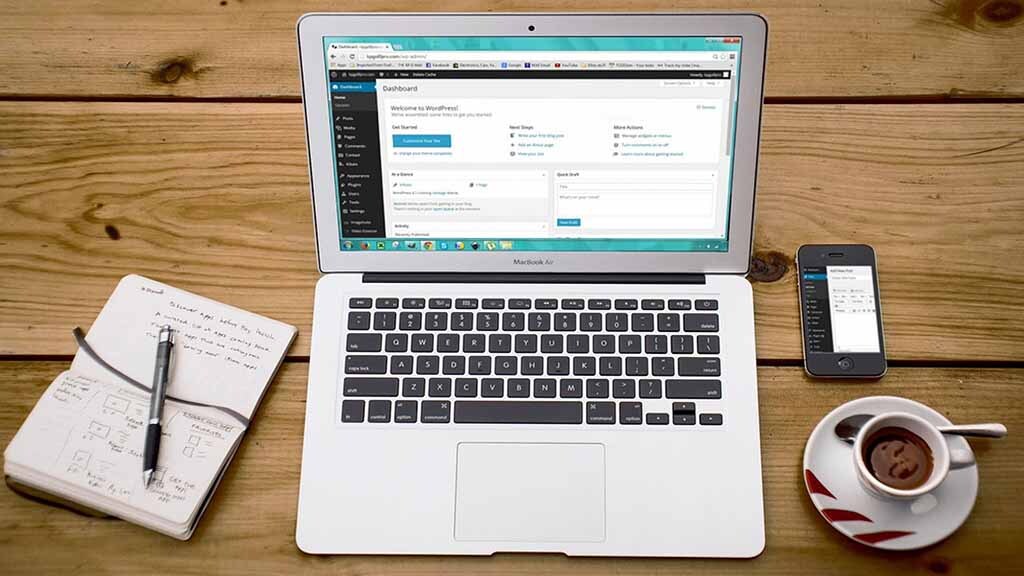 10 Benefits of WordPress Web Development
WordPress web development is the process of using WordPress to develop a website. It currently works on over half of the world's websites and is based on the PHP programming language. This language is one of the oldest for developing websites, and static and dynamic applications, which makes it highly relevant in today's web development Services
A CMS is software that helps web developers and administrators efficiently create and manage a website's content. It includes web pages, images, videos, posts and audio, among much more.
WordPress is currently the most trusted CMS and is free to download. Plus, you can use it in conjunction with various plugins that help you meet your custom needs.
Importance of WordPress Web Development 
These are the main benefits that developing websites with WordPress offers you.
    1. It is Profitable
WordPress is a completely free, open-source software that anyone can modify and use for web design and development, making it highly cost-effective.
    2. It is Easy to Manage
Managing a website can be a daunting and irritating task. As a web developer, you scroll through several lines of code to make a change to a website, or you have to rewrite them to create additional web pages. But with WordPress, you can do it very quickly with its page builders.
They have built-in text editors and drag-and-drop functionality to help you achieve any design you want. After developing a website, you can transfer the management of the website to your client, who can easily manage it at no additional cost.
    3. WordPress is Easy to Customize
WordPress web development allows you to easily customize websites to meet the needs of users. You can tweak and redesign themes to work the way you want, from design to the back end. This allows you to achieve absolutely anything you want to add or remove.
    4.It has a wide Variety of Themes
One of the benefits of using WordPress web development is the wide range of beautiful free and premium themes available for you to use.
Its themes are written in the PHP programming language using standard protocols and are developed and maintained by different developers. In addition, it allows you to download any of the themes you want from its official theme directory for free or offers you the option of paying for a premium theme.
     5. It has Plugins to extend the functionalities
Another benefit is the wide range of plugins that it offers you to extend the functionalities of a website. A web developer can create a custom plugin in the PHP language using standard WordPress development procedures for easy integration.
The platform offers you a wide variety of free and paid plugins that you can download on the official plugin directory page. A WordPress website does not work efficiently without plugins.
     6. WordPress is Responsive
One of the main requirements of a standard website is that it be responsive, a ranking factor in Google. That means it should have the ability to automatically resize itself, to fit different screen sizes without having to zoom in or out.
WordPress offers you a variety of ways to make websites responsive quickly by using plugins or using ready-made responsive themes.
      7. SEO Friendly Website
WordPress websites tend to rank highly in search engines like Google. They are updated frequently, and the tools and plugins available to optimize content help websites rank well for their keywords.
      8. It has Efficient Security
WordPress web development is effectively protected from hackers and intruders as long as you use the correct coding practices.
In addition to using accepted practices, there are plugins that help you harden WordPress sites from hackers by making them hack-proof. The large number of websites that have been created with this platform clearly confirms this statement.
      9.WordPress is Scalable
WordPress sites are easily scalable, meaning you can easily add new pages and content to them. WordPress gives you the ability to build multiple scalable sites, without extensive coding, just with a few clicks.
A multisite is a feature that allows users to create a network of websites on a single WordPress installation. This is a unique benefit for large organizations with multiple departments and branches in different locations.
       10. You have the support of the WordPress Community
WordPress is the most prominent open-source CMS. It has a vast community of developers and designers from around the world who work on the development of the platform.
They are responsible for making changes to the WordPress source files and keeping them up-to-date and secure. In addition, they provide support to the users of the platform at all times and update it so that it is increasingly efficient and reliable.
WordPress is a platform that provides you with all the necessary tools to build and manage a website. After knowing all the benefits that WordPress web development offers you, maybe you understand why it is used in more than half of the websites in the world. Adopting it for web development is definitely a good investment.